33.5757° N, 83.1824° W
—
GREENSBORO, GEORGIA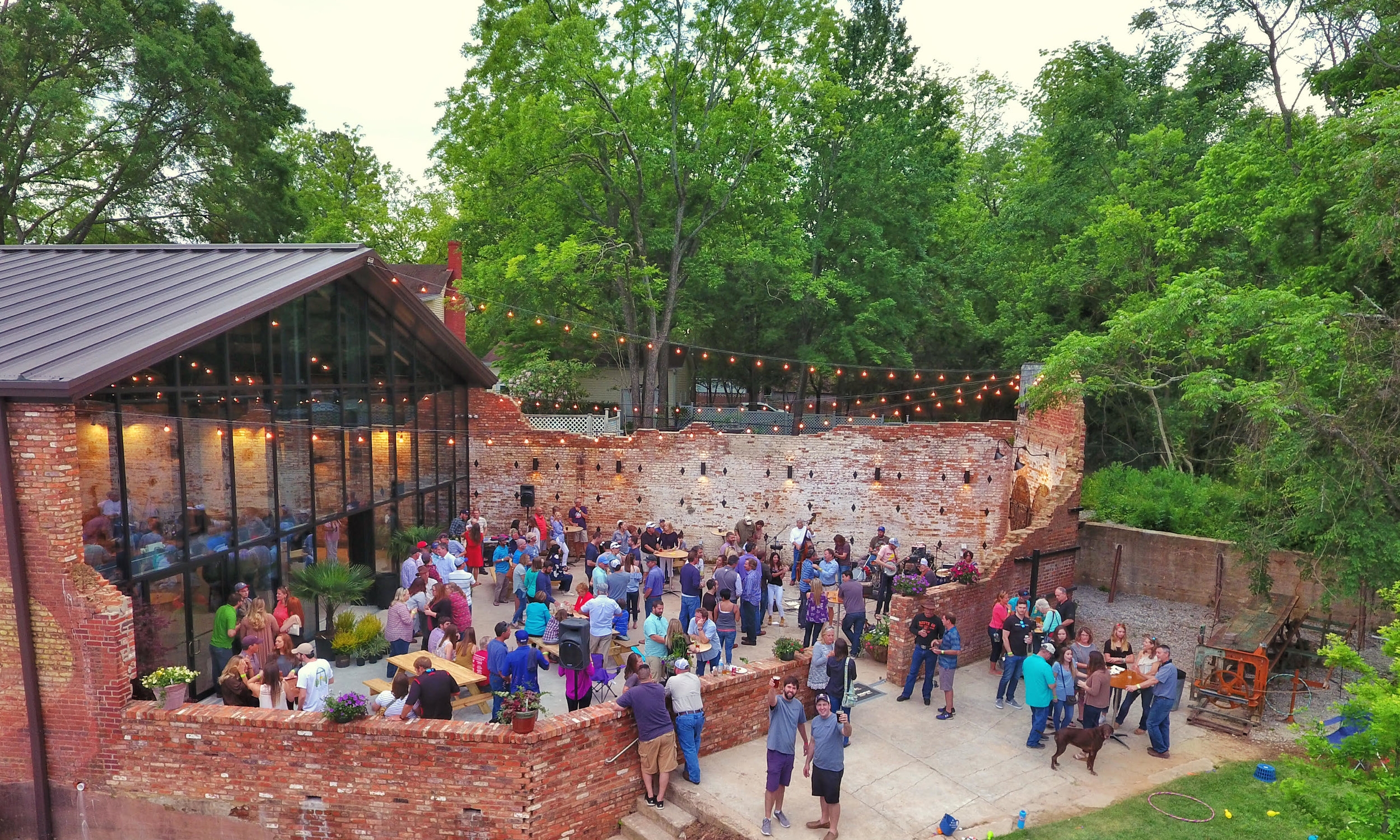 The genesis of Oconee Brewing Company was a casually spoken idea: The City of Greensboro, Georgia, would be a prime location for a craft brewery. That comment ignited a spark in John and Nathan McGarity of McGarity Realty in McDonough, Georgia. The father and son project development team own the 6,000 square foot former mill warehouse that is the home of Oconee Brewing Company. They partnered with Taylor Lamm and broke ground in June 2016. Oconee Brewing Company opened on May 6, 2017.
WHAT ARE SOME Features OF OBC?
Oconee Brewing Company has a retail production facility and a tasting room that is open to the public. A 3,600 square foot event space includes an 18 foot high, floor to ceiling, glass curtain wall that opens to an outdoor patio.
OBC uses Greensboro city water, which is actually ideal for making beer. The chlorine is stripped out, but no other water treatment is necessary.
The owner of our Brewery neighbor, Farmer's Feed and Seed, is also in the business of black angus cattle. The spent grain from our production is fed to his herd. The beef comes back to the local market. Farm, to table, to frosty glass of Oconee Brewing Company beer!
The owner and master brewer of OBC is Taylor Lamm. In addition to having degrees in Political Science and Sociology from the University of Georgia, Taylor is a graduate of the University of California Davis Brewing Basics course, Siebel Institute of Technology in Chicago, and Doemens Academy in Munich, Germany. He also earned a World Brewing Academy International Diploma in the Brewing Technology Program.
The project developers are Nathan and John McGarity of John McGarity Realty. The primary focus of the father and son firm, located in south metro Atlanta, is commercial and community development with a specialty in historical preservation, renovation, and repurposing of existing properties. They believe in improving a community through quality designs, unique commerce, and partnerships with local governments and investors.
The city of Greensboro, Georgia, has remained a quaint community of just over 3,000 citizens while having a history of thriving industry. Cotton was once king of Greene County, which was the highest producer of the crop in the State of Georgia. Today, day trip visitors enjoy the vibrant downtown shops and The Yesterday Cafe, which was recently named one of the "100 Best Places to Eat" by Georgia Tourism.
Downtown Greensboro is also a few miles from the shores of Lake Oconee where The Ritz-Carlton Reynolds welcomes over 62,000 guests per year.
The "fortunately located" small town is in the "middle of everywhere" to attract craft beer enthusiasts from Atlanta, Athens, and Augusta.